Inspiration For Songwriters:
52 Weeks of Songwriting Ideas and Inspiration
by Stan Swanson
ISBN: 978-0-9787925-1-3
220 pages, Paperback
1st Printing: January 2007
Retail price: $14.95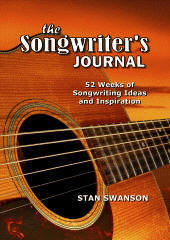 The Songwriter's Journal: 52 Weeks of Songwriting Ideas and Inspiration is the newest title available in the Stony Meadow Publishing songwriting series. More than just another songwriting "how-to" book, this journal inspires your songwriting muse day after day.
BOOK OVERVIEW:
Whether you are new to songwriting or have written hundreds of songs, The Songwriter's Journal should be within arm's reach whenever the mood to write a new tune strikes. It is packed with the fuel you need to ignite the imagination and provides you with more ideas than you could ever hope to write about. With hundreds of entries designed specifically to spark the muse within, the book should reside on every songwriter's bookshelf or desk. It includes songwriting exercises, chord progressions for new songs, word association exercises, ideas to write new songs about, note sequences for new songs, power words to include in your lyrics, items that belong in every songwriter's toolkit and much more.
What They Are Saying About THE SONGWRITER'S JOURNAL:
"This is a really great idea, and one my 12 year old son and I are both having fun with. My son is using piano (yep, he plays most every day and is in to improvising and taking the next step in his musical journey), me guitar. Being in journal format encourages songwriters to develop individual song ideas on a regular basis. It's one thing to read a lecture on songwriting, but to figure out how to write songs, most of us need both ideas and motivation. I like this book for both."
-- Jon Hood (Musician, Parker, CO)
"In reviewing songwriting books, it is important to ask the question: "Will this one help someone become a better songwriter?" In this case, it should make anyone a more prolific songwriter, which will provide the opportunity for improvement. It should help tickle a sleeping muse awake, and that can't hurt."
-- The Muse's Muse
"This is not a book you read; it's a book you do. It's a great workbook for songwriters, with sections for every week of the year. It includes places to jot down ideas, word games to inspire lyrics, chord progressions and melody lines to play with, and space to write a whole song, plus lists of "power words," quotes from famous songwriters and information about songwriting resources. I just wrote my first week's song, and I'm having a hard time keeping myself from reading ahead to next week. In fact, if I didn't have other things to do, I could just cuddle up with this book for the winter and write one song after another. Or I could use it whenever I feel stuck. This book would work well for poets, too. It's so much fun."
-- Susan Lick (South Beach, OR)
ORDERING INFORMATION
► Order The Songwriter's Journal from Amazon. $14.95.
► Order Inspiration for Songwriters directly from Stony Meadow Publishing.
Send check or money order to: Stony Meadow Publishing, 2020 W. 10th Ave. #103, Broomfield, CO 80020. $14.95 + $4.00 shipping/handling.
► Order complete PDF file for Inspiration for Songwriters. Only $6.95!
► COMING SOON: The Amazon Kindle version of Inspiration for Songwriters.
Visit the Books4Songwriters web site for a closer look at The Songwriter's Journal.
REVIEW COPIES:
Review Copies are available to established publications. Send request to Stony Meadow Publishing, 2020 W. 10th Ave. #103, Broomfield, CO 80020 or send an e-mail to StonyMeadowBooks@aol.com with pertinent information.
PRESS RELEASE for THE SONGWRITER'S JOURNAL:
The press release for The Songwriter's Journal is in PDF format and can be viewed with Adobe Reader. (If you do not have Adobe Reader, you can download it here.)
The Songwriter's Journal Press Release (PDF)
MEDIA KIT for THE SONGWRITER'S JOURNAL:
The media kit for The Songwriter's Journal is in PDF format and can be viewed with Adobe Reader. (If you do not have Adobe Reader, you can download it here.)
The Songwriter's Journal Media Kit (PDF)