Inspiration For Songwriters:
Tricks and Tips to Unlocking the Muse
by Stan Swanson
ISBN: 978-0-9787925-0-3
172 pages, Paperback
1st Printing: August 2006
Retail price: $14.95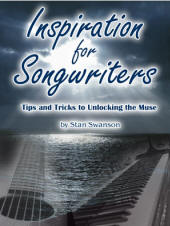 Inspiration for Songwriters: Tips and Tricks to Unlocking the Muse was the first title available in the Stony Meadow Publishing songwriting book series.
BOOK OVERVIEW:
Inspiration for Songwriters: Tips and Tricks to Unlocking the Muse is not your typical book about songwriting. It does not explain how to write, publish, pitch, promote or record your next song. There are already dozens of other songwriting books covering those subjects. What Inspiration For Songwriters provides is something few other songwriting books offer. And in our humble opinion, it does it much better than the few similar titles we could find. It provides thousands of inspirational ideas that could very well be the seeds to your next song! All in all, Inspiration for Songwriters includes over 2000 titles, tips, tricks and other ideas that will inspire you to create song after song.
What They Are Saying About INSPIRATION FOR SONGWRITERS:
"This book is packed with innovative jet fuel that will set your mind soaring into the creative stratosphere. There are hundreds of imaginative ideas here to unlock the imagination. If you've always wanted to write songs and can't find at least one tip worth the price of the book, perhaps you should consider another pursuit -- like collecting Popsicle sticks or licking envelopes."
--Bob Lind, author and songwriter (Elusive Butterfly, Cheryl's Going Home and Mister Zero)
"Nice job! I'm sure this will be useful to songwriters at all stages of their careers."
--Kenn Amdahl, author of Joy Writing and There Are No Electrons
"Wow, what a great idea for a book. You don't just read it once and put it away, you go back to it again and again whenever you need some new ideas or a jump-start."
-- C. Buckles, Denver CO (CDs: BossaNovaNights and Old Friend)
"I hadn't flipped through more than a few pages, just reading random bits and pieces, before I had more ideas for new songs than I could shake a stick at. In the hierarchy of books, this one clearly falls into the category of those that accomplish what they set out to do. And that is a substantial achievement."
--Ed Teja The Muse's Muse
UPDATE: Stan is currently working on a revision for Inspiration for Songwriters. The 2nd edition will contain more pages and lots of additional material for songwriters at all stages of their careers. New segments in the revised edition will include more power words (used in alliterative phrases to show how powerful they really are), new songwriting exercises, real thoughts from real songwriters on how they get inspired, a greatly expanded Songwriter's Resource Appendix with dozens of listings of songwriter magazines, books and software. A listing of 101 cliches you can either use in your songs or re-write to make the cliche your own, as well as an appendix of chords charts for guitarists. This newly revised and expanded edition will definitely belong on your bookshelf! Look for it in 2011.
ORDERING INFORMATION
► Order Inspiration for Songwriters from Amazon. $14.95.
► Order Inspiration for Songwriters directly from Stony Meadow Publishing.
Send check or money order to: Stony Meadow Publishing, 2020 W. 10th Ave. #103, Broomfield, CO 80020. $14.95 + $4.00 shipping/handling.
► Order complete PDF file for Inspiration for Songwriters. Only $6.95!
► COMING SOON: The Amazon Kindle version of Inspiration for Songwriters.
You can visit the Inspiration For Songwriters' web site for a little additional information and a book excerpt. You can also visit Amazon and use their SEARCH INSIDE feature for a closer look at the book.
REVIEW COPIES:
Review Copies are available to established publications. Send request to Stony Meadow Publishing, 2020 W. 10th Ave. #103, Broomfield, CO 80020 or send an e-mail to StonyMeadowBooks@aol.com with pertinent information.
PRESS RELEASE for INSPIRATION FOR SONGWRITERS:
The press release for Inspiration For Songwriters is in PDF format and can be viewed with Adobe Reader. (If you do not have Adobe Reader, you can download it here.)
Inspiration For Songwriters Press Release (PDF)